What make-up for teenager? First make-up experience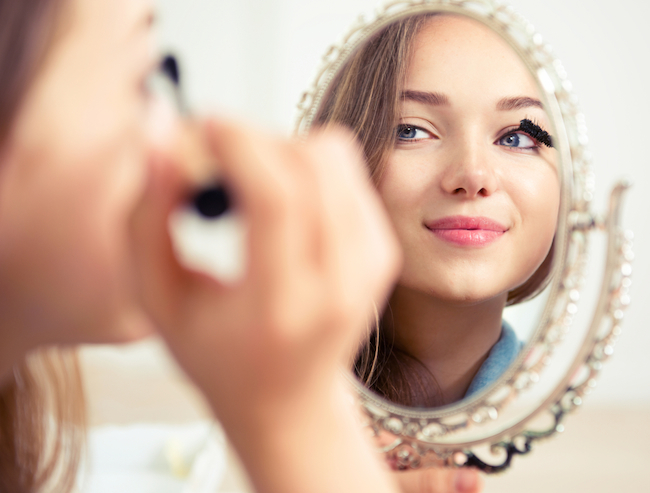 There comes a moment in the life of a young girl that she decides to perform her first make-up. Wise mums don't prohibit make-up, but help to choose such cosmetics, which will emphasise the advantages of youthful skin, and not do the harm.
There are various motives for use of cosmetics in young age. First and probably the most are skin problems, such as blackheads, pimples, that girls always try to cover with foundation and powder. Teenagers often want to look better, for example for the opposite sex, because this is the time when first heartbreaks take place. Randomly there appears this need to look like the mum. What direction in make-up is advised?
What is the perfect time for first make-up?
This is frequently asked question by women whose daughters decide to use mascara or lipstick. There is no good answer. Obviously, we will not allow five year old to wear make-up (unless just for fun), but girls in their teenage years can use cosmetics for make-up under the supervision of an adult.
What cosmetics should the teenager use?
The most important is that these cannot be products used by the mum, aunt or grandma. Skin of young girl, in spite of all sorts of impurities, is very healthy, elastic and well hydrated. Application of wrong cosmetics can only cause some harm, just like to women in any other age.
Basic cosmetics best for the teenager:
foundation: only with natural ingredients; with light and creamy texture; moisturising and refreshing, never matte;
blusher: powder or cream, but with light formula; in delicate shade of pink or peach; without highlighting and pearl glow, rather matte;
mascara: slightly providing length and emphasising eye colour; not waterproof; with formula enriched in vitamins and nourishing ingredients;
lipstick: moisturising and deeply nourishing; colourless or in delicate shade of pink, beige, peach; can be in form of light lip gloss.
How should the teenager apply the make-up?
First rule of make-up for teenagers says that young girl does not look good in vibrant colours and expressively emphasised eyes. You shouldn't allow use of intense eye shadows, eye liners or eye pencils as well as red lipstick. Certainly, for young girls it is advised against performing face contouring. Of course, it all shouldn't do much harm to young skin, as long as the cosmetics are right for the skin type.
However, age follows its own rules, and expressive make-up takes away from the teenagers the entire innocence. Natural beauty requires delicate correction and skilful emphasise, not hiding it under thick layer of powder. Indeed, powder is entirely redundant to girls, because natural skin in this age should have its healthy glow. Matte skin will look unnatural and fake.