Make-up accordingly to autumn trends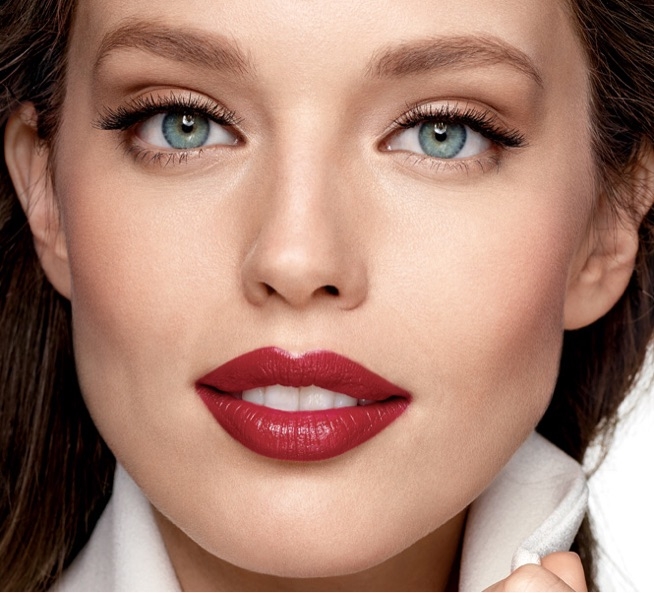 Autumn season will be dominated by soft colours on the eyelids and strong, dignified colours on nails and lips. However, not all of us can create a perfect nude make-up. Usually, we use monochromatic shades, which we put on the entire eyelid and just below the lashline as delicate muted colours seem uninteresting to us. The secret of such a make-up lies in accuracy as well as good combination and intensification of colours.
How to create an interesting nude make-up and not to bore yourself and others with monotony?
Prepare the skin for make-up, apply a base for eyeshadows on the upper eyelid (this is very important especially when it comes to light shades – without a good base they will simply lose pigment and grip).
Now reach for your favourite nude eyeshadow palette. They may be shimmering, but if you have matte eyshadows in your make-up bag – feel free to use them ad they will be the most fashionable colours of the autumn.
Start with the lightest shade: apply it on the upper eyelid just below the eyebrow and in the inner corner of the eye. Try to pat the eyeshadow with a brush. Avoid smudging it on the eyelid because the product can loose its pigmentation.
The outer corner of the eye and eyelid just above it – use a dark eyeshadow (but do not select the darkest one – this one will be useful for gentle emphasis on the lashline).
At the centre of the eyelid, use a shade in the colour of coffee with milk, or a slightly darker tone.
Now, take a tiny, fluffy brush and gently blend eyeshadows on the eyelid. Do it subtly, be careful not to wipe the pigment, but only blur the boundaries between colours.
If you have a bright shade in the form of a stick, put it in the inner corner of your eye both on the top and bottom. This will brighten the look and make the whole eye look rested. Additionally, this small trick will bring out the depth of the colour of your eyes. You can also do this using a tiny brush and light shade.
Apply a dark, matte eyeshadow on the lashline. This will add deepth to your look and optically thicken the lashes.
Apply mascara, foundation and powder, do you eyebrow make-up and all of the steps, which accompany you with daily face make-up.
At the end, reach for a dark lipstick – the ideal colour will be dark plums, eggplant, dry wine or cranberry. When applying products on your lips, be extremely careful – especially when it comes to dark colours, they tend to emphasize any imperfections.
All set!