Oriflame Milk & Honey Gold – luxurious body and hair care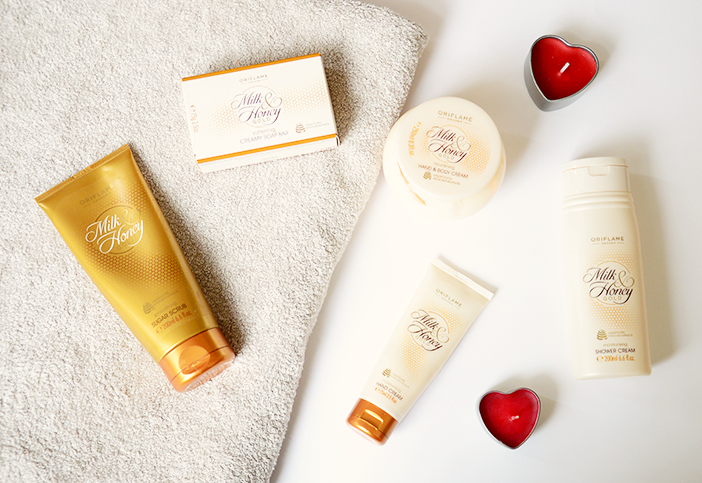 Milk with honey is the most delicious when we have a lie-in during cold evening, covered with a warm blanket. Apart from being tasteful, these two ingredients are effective in beauty care, which is proven by the latest Oriflame cosmetic series. What is the action of Milk&Honey Gold gels, creams, soaps and shampoos?
Milk and honey have been used in beauty care for ages. Cleopatra used milk baths in order to stay young. The properties of some natural animal and plant substances have been known since ancient times. No wonder that Oriflame has launched Milk&Honey Gold cosmetics.
Combination of milk and honey is the best duet for skin!
Milk is an irreplaceable source of nutrients, essential fats, elements (calcium, phosphorus, potassium) and vitamins that the skin needs to keep young (vitamin A, E, B). Natural cosmetics with milk repair the epidermis and soothe the irritation. Milk also offers anti-ageing action as it neutralizes free radicals.
Honey is essential in skin care as well. It contains a large amount of antioxidants. It slows down ageing processes whereas a big amount of vitamin C provides anti-inflammatory action. Obviously, it depends on the flowers it is obtained from.
ORIFLAME MILK & HONEY GOLD
Milk&Honey Gold series offers body and hair products. They have been created for dry skin, damaged hair and any situations requiring strong moisturising. The properties of honey and milk make the products stand out among other cosmetics designed for problematic body parts.
Body care products:
Milk & Honey Gold Moisturising Shower Cream
Milk & Honey Gold Nourishing Hand&Body Cream
Milk & Honey Gold Nourishing Day Cream
Milk & Honey Gold Nourishing Night Cream
Milk & Honey Gold Softening Soap
Milk & Honey Gold Softening Liquid Hand Soap
Milk & Honey Gold Moisturising Hand Cream
Milk & Honey Gold Smoothing Body Scrub
Hair care products:
Milk & Honey Gold Hair Mask
Milk & Honey Gold Hair Conditioner
Milk&Honey Hair Shampoo