Coconut oil – a natural cosmetic. How does it work in hair care?
It is very often one of the key ingredients of many cosmetics although, many prefers using it on its own in a pure form. Nevertheless, coconut oil is an irreplaceable means of everyday struggle for beautiful and healthy hair.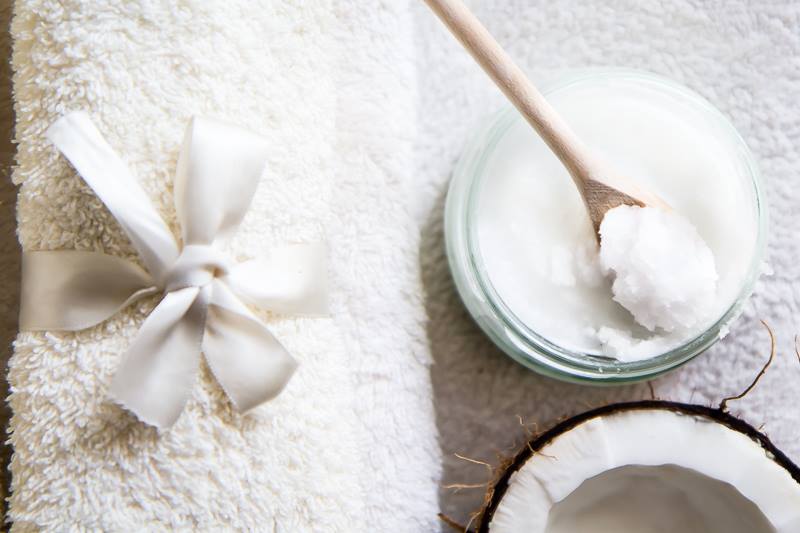 The properties of coconut oil have been known for ages. In the warmer countries, it is used for both culinary and beauty purposes. The women of India owe their long, thick and strong hair to this miraculous substance. This made coconut oil a very popular component of beauty products and is a permanent guest to our makeup bags.
What does coconut have to offer?
It is an edible oil extracted from the kernel or meat of mature coconuts harvested from the coconut palm (Cocos nucifera). The substance is considered one of the healthiest oils available due to its lauric acid content – a fatty acid that has antibacterial and antifungal properties. Moreover, there is also an abundance of vitamin E that has antioxidant effects, and a range of valuable minerals (zinc, potassium, magnesium) essential for proper hair growth.
Moisturize, protection and relief to irritations 
The best solution is to choose a cold-pressed, unrefined oil because it is not deprived of the majority of valuable nutrients. It is recommended for low porosity hair in particular, especially if its exposed to overdrying. Coconut oil can replace a conditioner which is a perfect base for homemade masks and is ideal for hair oiling.
What are the properties of coconut oil?
– it regulates moisture level by replenishing lipids to the outer protective layer of the scalp. This way, it prevents moisture loss. Even though it is not a humectant, it has an influence on whether the hair needs moisture.
– it is a natural UV filter that protects the hair against sun radiation and other weather conditions. Also, it strengthens hair's natural protective layer and at the same time, increases shine, softness and smoothness.
– it provides antibacterial and antifungal properties, thus a coconut treatment for hair with dandruff is a great solution. The oil eliminates the source of the problem, soothes irritations and regulates sebum secretion, which reduces dandruff and prevents relapse.
High-quality coconut oil 
More info about where to buy the best coconut oil and what should be its price can be found on various pages dedicated to this ingredient.