Sunflower Oil – How to Move it from the Kitchen into your Home Beauty Spa?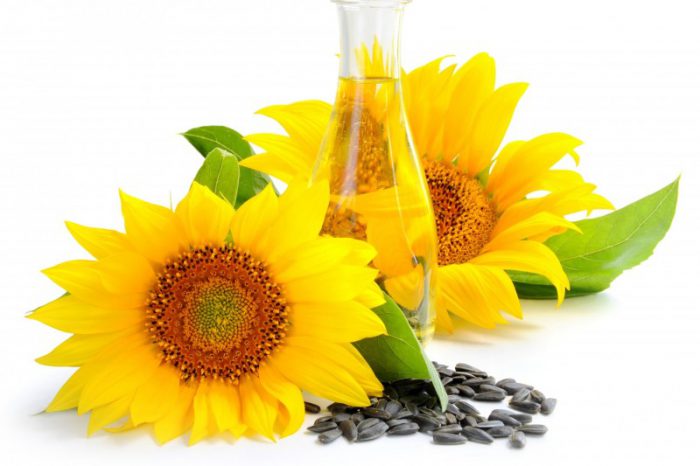 Obviously, the oil, we use for cooking, is unsuitable for beauty treatments. Even the best cold-pressed sunflower oil is (regrettably) low in nutritional ingredients because it is refined to make it suitable for safe frying. On the other hand, the cosmetic sunflower oil is a fantastic remedy for dry damaged highly-porous hair yet there is one condition – it must be unrefined and cold-pressed. What are the hair benefits of sunflower oil? Why should you search for it at healthy food stores?
Sunflower Oil INCI: Helianthus Annuus Seed Oil
Sunflower Oil – Ingredients
Unrefined and cosmetic sunflower oil can brag about the diversity of vitamins and minerals. Among the ingredients, you will find selenium, zinc, iron and copper, and a large concentration of vitamin E. Saturated and unsaturated fatty acids (mostly linoleic and oleic) complement the composition together with phytosterols which upgrade the condition of skin and hair (thanks to the collagen synthesis and delaying the dissolution of elastin). Phospholipids (lecithin) and carotenes also improve the condition of hair and skin, reinforce brittle nails and block hair breakage.
Sunflower Oil – Cosmetic Uses
Rich ingredients make sunflower oil a valuable beauty product offering lots of uses. It is successfully added to creams for the dry and sensitive skin and is a component of soaps and body lotions (also for delicate baby's skin). Sunflower oil-infused hand lotions leave the skin smooth, keeping hands moisturised. This oil is an ingredient in lip care balms and it is often included in blends of natural hair care oils. Sunflower oil strengthens the protective barrier of the skin, holding dryness and irritation back.
Sunflower Oil – Hair Benefits
Sunflower oil is among the oils recommended for high porosity hair – dry, brittle, weak. Its large molecules perfectly fit big gaps in the keratin layer on this hair type. Sunflower oil protects it from further damage, keeps hair hydrated, saves from the air pollution, soothes the irritated and dehydrated scalp, regulates the hydro-lipid coat. Used regularly for the hair oil treatment, sunflower oil enhances the inner hair structures. It is one of the few vegetable oils which are not comedogenic – fast-absorbing and not causing the occurrence of comedones. It leaves the scalp clean and makes hair bulbs stronger.
Sunflower Oil for Hair – Application
Sunflower oil is suitable for the hair oil treatment (applying it to tresses and scalp) – it's the most effective in this role; its repairing power is the strongest. Feel free to add it to hair masks and conditioners to intensify the effects. If you apply sunflower oil to hair and scalp, leave it in for at least thirty minutes. Make the treatment longer if your hair is extremely damaged and over-processed (let it sit in throughout the night and rinse it out after waking up – cover the strands with a shower cap to avoid smudging the bed sheets).
Sunflower Oil for Hair – Effects
A regularly-done hair oil treatment delivers quick effects – use sunflower oil at least once a week. Most of all, your scalp and hair bulbs will be healthier. Then, you will see the improvement in the appearance of your hair throughout its length. Sunflower oil smoothes the hair and seals the cuticle layer for an amazing shine and bounce. Week by week, strands receive more and more nutrients. The damage process is blocked. Sunflower oil enhances the hair looks and heals the damage on its surface.
Sunflower Oil – Reviews
There are mixed opinions about sunflower oil. Many women say it works better as a body and face skin product. Others rave about its hair benefits. It is mostly recommended as a serum for hair ends – even the driest strands get back the bounce and moisture. Sunflower oil is recommended as an ingredient of DIY hair and facial masks, too.
Sunflower Oil – Price
Without doubts, it is one of the cheapest cosmetic oils. Its price is similar to castor oil or sweet almond oil. This is what makes it one of the top-selling oils: an attractive price and availability. It's really popular among bloggers and hair care lovers, getting lots of reviews.