Nanobrow Eyebrow Pomade – a brow pomade suited to your needs
Looking for a professional long-wear brow pomade that will let you create looks for any occasion? No need to look further! We present you with the most popular choice among consumers – Nanabrow Eyebrow Pomade. You won't have to worry about how you look all day long.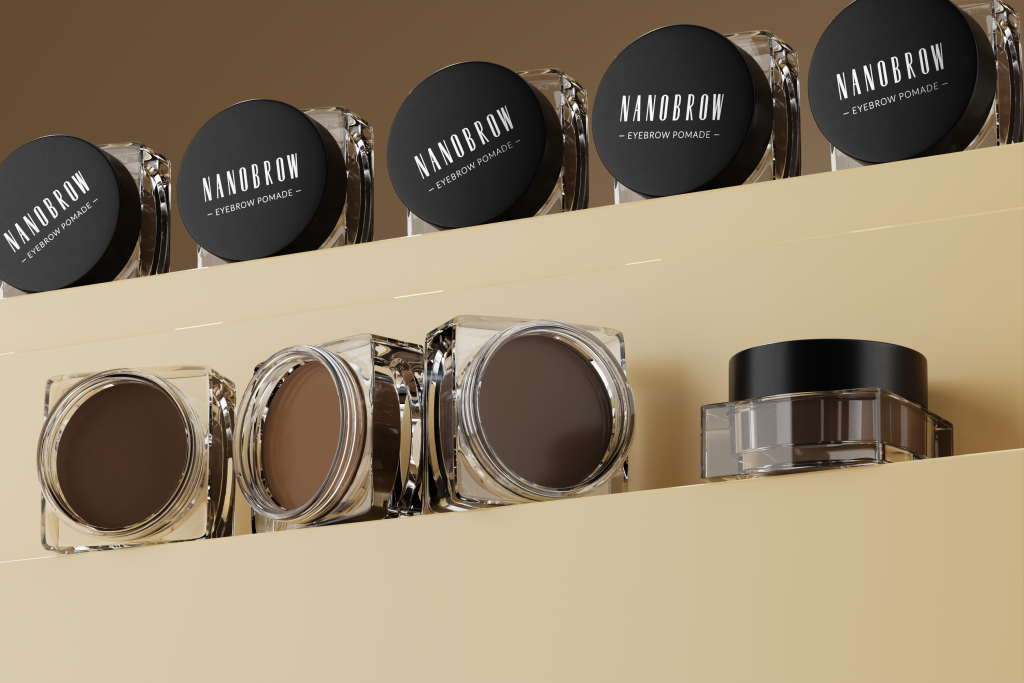 How does Nanobrow Eyebrow Pomade work?
The professional Nanobrow Eyebrow Pomade is the favourite of many women all over the world. It's praised for its long-wear performance, easy of use and versatility:
✔ able to create a dream-like eyebrow shape
✔ strengthens and boosts shine
✔ waterproof and survives all day long in flawless condition
✔ fills in eyebrow arches with vivid colours
✔ masks patches and gaps
✔ draws additional thin hair-like lines
The composition of Nanobrow Eyebrow Pomade
Nanobrow Eyebrow Pomade is very multipurpose. It can be used for brow sculpting and styling, delivering an expressive yet natural look. Its strengthening formula takes care of eyebrows, ensuring maximum beauty and shine.
white clay – a demanded cosmetic ingredient, rich with minerals such as iron, calcium, potassium, and phosphorus; very delicate, works well for the care of every hair type,
liquid isoparaffin – an equivalent to squalane that strengthens and nourishes hairs, making everyday styling easy and pleasant, intensely moisturizing, lubricating from the inside,
acetyldodecanol – a lubricating substance that smooths and hydrates eyebrows at the same time, improving their texture and condition.

Nanobrow Eyebrow Pomade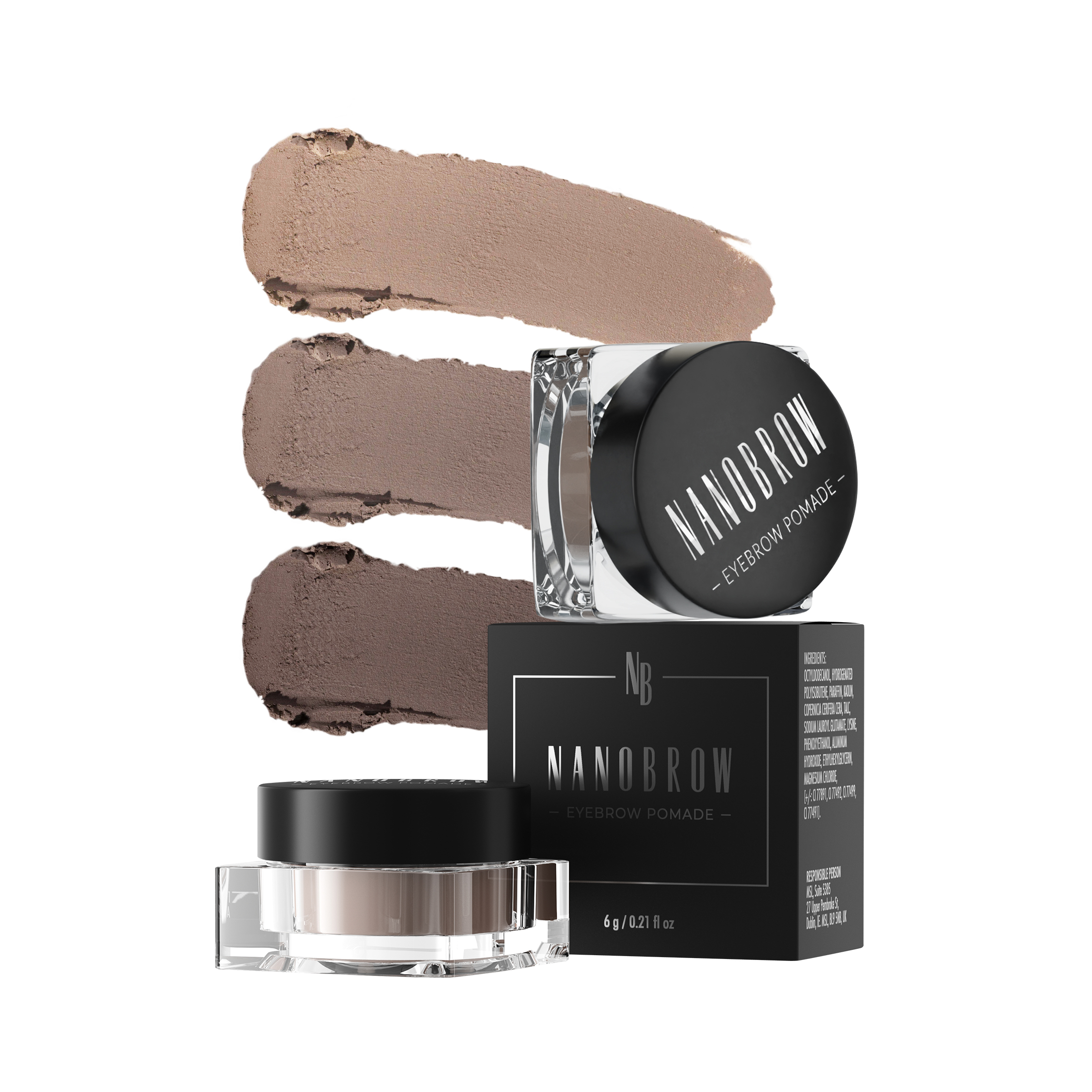 It's available in shades:
Expressive eyebrows in no time with Nanobrow Eyebrow Pomade
Nothing is impossible for this product! The long-wear Nanobrow pomade lasts all day long and you don't have to do any touch-ups throughout the day. This fantastic brow enhancer redefines their shape, fills in cavities and draws additional hair-like lines that imitate real eyebrow hairs. The creamy brow serum will work well for every woman who wishes to create professional and elegant makeup. You can find it in a few neutral shades which result in stunning and subtle makeup at the same time. The effect can be intensified depending on your preferences and occasion. If you go for Nanobrow Eyebrow Pomade, it will become your new favourite brow styling product and you – a true makeup professional.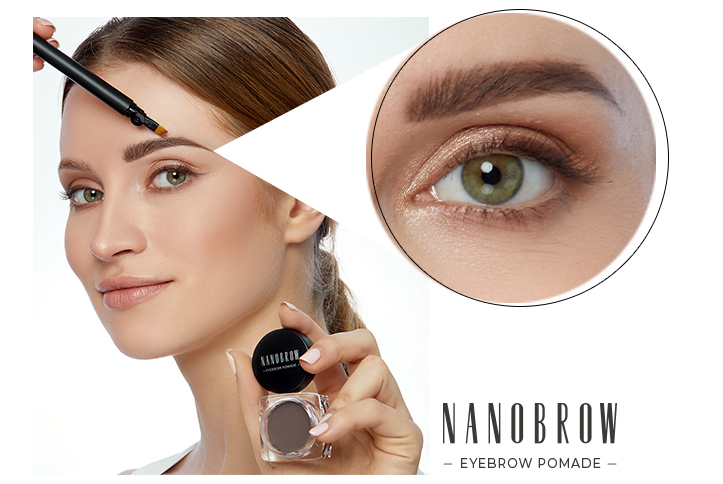 How to use Nanobrow Eyebrow Pomade?
Want your eyebrows to always look like you've just left a beauty salon? In order to do that, you will need a long-lasting brow styling pomade! Even if you're not an experienced makeup user, this product's application won't be difficult for you. Multiple women all over the world go for it not without a reason! See how easy it is:
Cleanse eyebrows to get rid of any impurities or dirt. Avoid using an oil-based product.
Scoop a little pomade onto a handy brush.
Outline your eyebrows, starting near the inner corner of your eyes using precise short strokes.
Fill your eyebrows with the chosen colour, masking sparse areas.
Check if there isn't any excessive product on the hair. If so – brush it out with an ergonomic spoolie.
A brow pomade is a long-wear product that lasts all day long. Nanobrow Eyebrow Pomade is the perfect choice for every woman!
Visit www.nanobrow.us and find out more.