Caviar Skin Care: Skin Caviar Essence-In-Lotion by La Prairie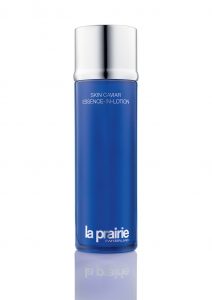 La Prairie brand is known for creating luxurious cosmetics with the content of caviar. Many women around the world are satisfied with the effects of these products. See for yourself if you will also become a fan of the new serum Skin Caviar Essence-In-Lotion.
Serum Skin Caviar Essence-In-Lotion by La Prairie is designed for all skin types, especially for people who have dry, tired and dull, skin. Such cosmetic deeply moisturises and provides nutritional ingredients. In addition, it brightens, smooths and firms the skin. Visually minimises pores and reduces fine lines. La Prairie product contains an extract of caviar. This luxury ingredient is rich in valuable for our beauty minerals and vitamins that accelerate the process of rebuilding the skin, strengthen the protective barrier of the skin and protect against free radicals.
How to use serum Caviar Essence-In-Lotion by La Prairie? The cosmetic should be applied in the morning and evening after thorough cleansing. Apply a small amount of the product on face, neck and décolleté. Pat with your fingertips, performing a gentle massage. This procedure improves blood circulation in skin cells, firms and tones the skin and accelerates absorption of active ingredients contained in the serum. Make sure to avoid the eye area when applying this product.
Serum Caviar Essence-In-Lotion by La Prairie comes in a blue container with a capacity of 150 ml. Skin Caviar series also offers other products. You can choose from: Gravity-Defiant Lifting Serum, Lavish Firming and Lifting Cream and Rich Firming and Lifting Eye Cream.
Do you know how the cosmetics from La Prairie with caviar content are produced? Experts, working with the brand use steam distillation. This method allows to get high-quality ingredients. The products from La Prairie consist of water and the following extracts: caviar, oat grain, seeds, lentils and yeast. Thanks to them, your skin will be beautiful, healthy, and in addition, will look younger and radiant.