Which Castor Oil Product to Pick? Check the Best Ones
Pure castor oil seems to be the unrivaled cosmetic oil. It belongs to the top natural beauty products that a growing number of people reach for. Due to the inimitable composition of cold-pressed and unrefined castor oil, it's impossible to find a good replacement, or even alternative that would come close to the abilities of this plant oil. Among castor oil's biggest assets, there is this huge power to improve hair, brow and nails. When genuine, castor oil is able to do more than just promote hair growth and leave your complexion perfectly clean.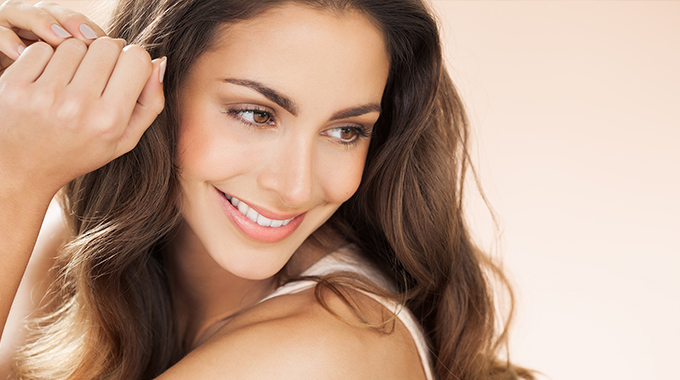 You may wonder what does it mean that the oil is genuine, or pure. Isn't it the quality of all plant-based oils? Unfortunately, not every castor oil product you see in a shop is pure, meaning that it's not 100% effective. So which product should you buy? Check which castor oil products are ranked the highest by consumers. The below ranking shall help you make the right choice.
CASTOR OIL: Things you should know before buying it
Are all castor oil products the same? It turns out that… not really.
Castor oil is obtained through the extraction process of castor beans. And the extraction may be carried out in a few ways, which explains why one castor oil product differs from another. In some cases there are high temperatures or even chemical substances involved in the process of squeezing the oil out. Heat strips castor oil off its nutrients that make it so helpful in getting better-looking skin and hair. More worryingly, the chemical substances added to any plant oil – mainly to purify it – increase the risk of skin irritations. That being said, if you want to buy the best and the safest castor oil product, always make sure that it's cold-pressed, unrefined and free from any chemical compounds, such as hexane for example.
When you manage to find a castor oil product that meets all the above-mentioned requirements, you can be sure of its high quality. Only such castor oil offers you the highest concentration of ricinoleic acid, omega-6 and omega-9 acids, vitamin A and E, and other minerals that are proven to be beneficial for you.
GOOD CASTOR OIL – WHAT ARE ITS ATTRIBUTES?
Now you know that good castor oil products are cold-pressed, unrefined and free from chemical substances. Another issue is that castor oil shouldn't be thinned down with a cheaper plant oil. To avoid being sold as an oil blend that is misleadingly called 'castor oil', always check if it's 100% pure and if it's a single-ingredient product.
Last but not least, it's also hugely important to find a plant oil – in this case, castor oil – that is certified for being an environmentally-friendly product (e.g. Eceocert).
GOOD CASTOR OIL – HOW DOES IT WORK?
Speeds up the growth of hair, repairs hair structure.
Shows anti-inflammatory action, helps fight off acne and erases acne scars.
Replenishes skin with water.
Adds more body to hair.
Promotes hair, brow and lash growth.
Leaves skin perfectly clean; ideal for removing makeup.
Cleanses the scalp, nourishes and strengthens hair, leaves it shiny and disciplined.
Intensifies natural color of hair and eyebrows, combats the loss of moisture and prevents color fading.
Is perfect for body massage.
THE BEST CASTOR OIL PRODUCTS: RANKING. CHECK WHICH ONE TO CHOOSE
1. Castor oil by Nanoil
SIZE: 1.69 oz / 50 ml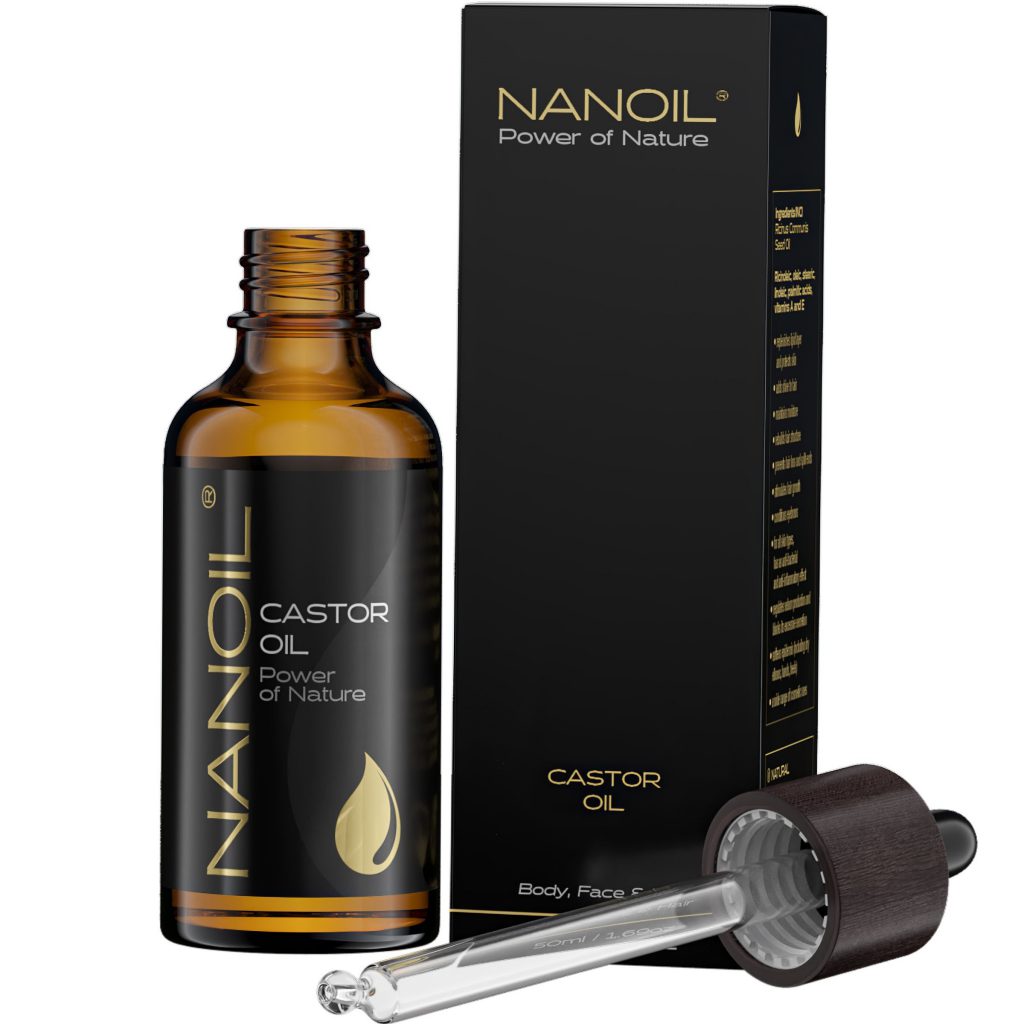 DEEP HYDRATION • STRENGTHENING • SHINE • REPAIR • DEEP CLEANSING • PROMOTED GROWTH OF HAIR, BROWS & LASHES • CLEAN SCALP
This is the best-selling and most popular, multi-tasker castor oil that gathers raving reviews. Nanoil's pure and unrefined castor oil is proven to have a positive effect on brow, lash and hair growth. It's also known for being able to repair and fix heavily damaged nails.
Nanoil castor oil proves itself to be a great skin cleanser. Vitamin E, omega 6 and 9, and proteins that pure castor oil is loaded with stimulate collagen production, and as a result erases wrinkles from the face. The same constituents are responsible for replenishing skin with moisture. Castor oil offered by Nanoil makes an ideal constituent of home beauty products, can be used as a massage oil, and since it's antiseptic, it doesn't allow bacteria to multiply on skin that causes acne and other blemishes.
Additionally, this product is one of the finest hair treatments that you can have. Not only does it promote hair growth but also adds more body to each hair shaft, leaving your hairdo visibly fuller-looking. This cold-pressed plant oil supplies strands with water and nutrients, boosts shine and leaves hair pleasantly smooth. This one-of-a-kind castor oil carries Ecocert sign, which is a world-recognized certification given only to the highest-quality all-natural beauty products.
Wish to learn more about Nanoil and its pure castor oil product? Go on nanoil.us
2. Castor oil by Satin Naturel
SIZE: 6.76 oz / 200 ml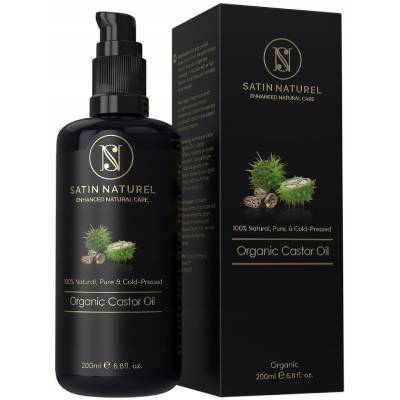 STRONGER LASHES & BROWS • DEEP CLEANSING • MOISTURIZING • SMOOTH HAIR
Castor oil offered by Satin Naturel is a wonder product launched by a German cosmetic brand. There are a few highly distinctive things about this product: stylish packaging, big size and exorbitant price. Many users say that Satin Naturel natural castor oil isn't great for the price that you have to pay for it. They emphasize that the same effects, which are highly satisfying, can be achieved with other, less pricey castor oil products.
But what are the highly satisfying effects? Firstly, castor oil by Satin Naturel is suitable to take good care of hair, including eyebrows and eyelashes. It strengthens brittle hair, improves the appearance of eyebrows and locks moisture inside the hair. On top of that, with this product you can prevent color fading mainly because castor oil is known for intensifying natural color of strands. Secondly, this castor oil aids in nourishing dry skin. To do this, combine castor oil with a more lightweight plant oil, e.g. argan oil. Finally, castor oil is also good at removing makeup products from your face.
3. Castor oil by Earth To You
SIZE: 3.38 oz / 100 ml • 6.76 oz / 200 ml • 16.9 oz / 500 ml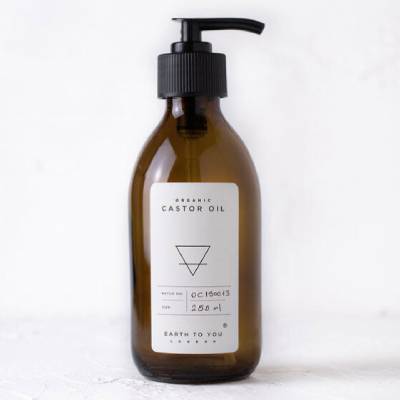 STRENGTHENING • MOISTURIZING • REPAIR • CLEANSING • NOURISHMENT
This is a surprisingly expensive but – without doubt – organic castor oil extracted from the castor beans originating from environmentally friendly farming in India. Castor oil by Earth To You is cold-pressed, free from parabens and silicones. Moreover, it's 100% vegan and cruelty free! Its bottle comes with a convenient brush applicator.
This offering is suitable for nourishing and strengthening hair, brows and lashes which is mainly owed to a high concentration of vitamin A, E and ricinoleic acid. The latter is proven to reduce irritations and inflammations. While mentioning the skin benefits, castor oil by Earth To You keeps skin hydrated and aids in fighting off acne. It shall also erase pigmentation spots, provided that you have any.
Even though castor oil by Earth To You receives many positive reviews, it isn't the top choice of many consumers. Why so? Check the price.
4. Pure Organic Castor Oil by CSCS
SIZE: 2 oz / 60 ml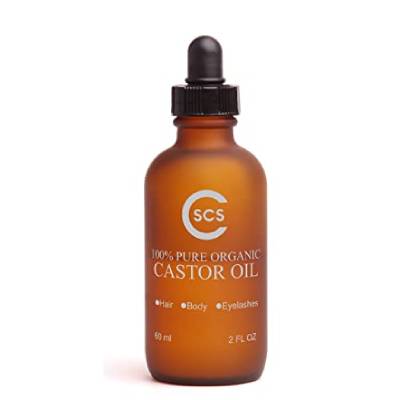 STRENGTHENING • CLEANSING • MOISTURIZING • SMOOTH SKIN
Here's the pure, organic castor oil certified by USDA. Its size is fairly big, but the thing that made it most popular is the fact that it can be used for full body massage as well as for removing makeup. Castor oil by CSCS is well tolerated by skin and penetrates it pretty fast. Thanks to being a single-ingredient beauty product, it's a perfectly safe conditioner for better-looking lashes. Using this castor oil as an alternative to commercial lash and brow enhancers is facilitated by two brush applicators it comes with.
It's recommended mixing Pure Organic Castor Oil with other plant oils (also essential oils) to create customized oil blends targeting particular skin concerns. The dark-glass bottle protects the oil from going rancid.
5. Black Castor Oil by Hair Thickness Maximizer
SIZE: 1 oz / 30 ml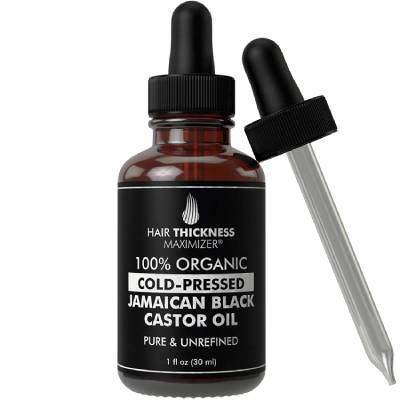 STRONGER LASHES • NO MORE BRITTLE HAIR • MOISTURIZING • BOUNCY HAIR
This unique Jamaican castor oil's extraction method is truly peculiar. After picking up the beans, they are roasted under the sun, powdered and later simmered. And this is how this black unrefined oil is obtained. The high temperature used for the extraction process makes the oil suitable only for hair treatments. Being nutrient-rich, this oil is mostly recommended as a deeply nourishing hair conditioner that straightens weak, dry and brittle hair and lashes. This black castor oil is fast-absorbing, takes good care of lashes and brows and leaves them defined.
Jamaican castor oil is also proven to promote hair growth. When used on a regular basis, it repairs, strengthens and protects the strands from various external aggressors. The good news is that Black Castor Oil by Hair Thickness Maximizer prevents hair from splitting, thus keeps more moisture within the hair. Sadly, the small size that this castor oil product is available in doesn't go hand in hand with its high price, which the consumers often mention as a drawback.
6. Organic Castor Oil by Ecla Skin Care
SIZE: 2 oz / 60 ml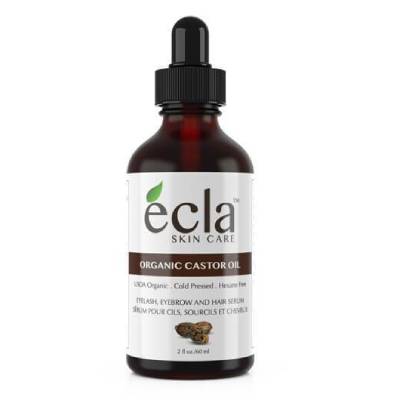 STRENGTHENING • MOISTURIZING • NO MORE BRITTLE HAIR • DEEP CLEANSING
Castor oil by Ecla Skin Care is an organic, cold-pressed plant oil. Since it wasn't deprived of the precious nutrients, this oil's quality is high. This product offers many benefits for hair. For example, it's effective in improving the appearance of lashes and brows. It can also be used to condition the beard. In general, regular use of Organic Castor oil by Ecla Skin Care conducts to faster hair growth. One thing that has to be realized is that this castor oil shouldn't be left on hair for long, because it will weigh the strands down – it's better to always rinse it from strands.
It's worth pointing out that castor oil by Ecla Skin Care aids in creating damage protection around the hair. This in turn keeps strands safeguarded from external aggressors such as smog, dust, toxins and even the heat generated by styling tools. With this castor oil product you can not only prevent hair ends from splitting but also add fabulous shine to the strands. What may be surprising, you can use this natural beauty product as a replacement for regular lip balms.
7. Castor oil by Asombroso Pure BIO
SIZE: 3.38 oz / 100 ml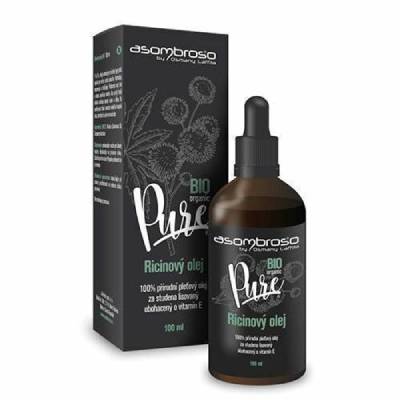 STRENGTHENING • REPAIR • MOISTURIZING • STRONG HAIR & NAILS
Lovely packaging, fairly big size bottle and inside this bio castor oil that receives rather positive reviews from the consumers. What's interesting, this beauty product is marketed for being a perfect "castor oil for women", which raises some questions. Can't it be used to take care of the beard and male skin?
What castor oil by Asombroso Pure BIO can be surely used for is full body massage – it's thick, hence stays exactly on the body part you put it on. When mixed with other plant oils, it transforms into a face cleanser (see OCM). With this oil you will get fuller-looking brows, lashes and hair that remain hydrated. Like the oils mentioned above, castor oil by Asombroso Pure BIO is able to prevent color fading. When it comes to skin care, you can use this product if you need to soothe irritations and erase acne scars.