A 10-in-1 beauty product?! Nanoil Castor Oil makes it possible!
The reputation of castor oil has stood the test of time and in recent years it has caused quite a stir in the beauty industry. Its versatile benefits and ultra-moisturizing effects are highly valued. Castor oil is a well-known ingredient in lots of cosmetics available in drugstores or pharmacies. You can find it on the ingredient list of lotions, creams, conditioners, soap and shampoos. The best results, however, can be achieved by applying the oil directly to the skin, hair or nails.
Nanoil Castor Oil is a single-component, hypoallergenic cosmetic, suitable for everyone. Its innovative formula breaks the stereotype of heavy, greasy and unpleasant castor oil. The Nanoil brand has created a modern oil tailored to modern beauty maniacs who value simple ingredients and easy application.
Nanoil Castor Oil
Size: 50ml
INCI Composition: Ricinus Communis Seed Oil
Certificate: Ecocert
What makes it special?
tested, certified composition safe for allergy sufferers,
not tested on animals (cruelty-free) – suitable for vegans and vegetarians,
unrefined to retain its beneficial properties,
universal, multi-purpose and non-irritating,
enclosed in a glass bottle with a handy dropper to apply the product precisely,
suitable for dry, normal, oily or problematic skin,
moisturizing, antibacterial, nourishing and protective properties,
appreciated by specialists in the beauty industry and thousands of satisfied customers.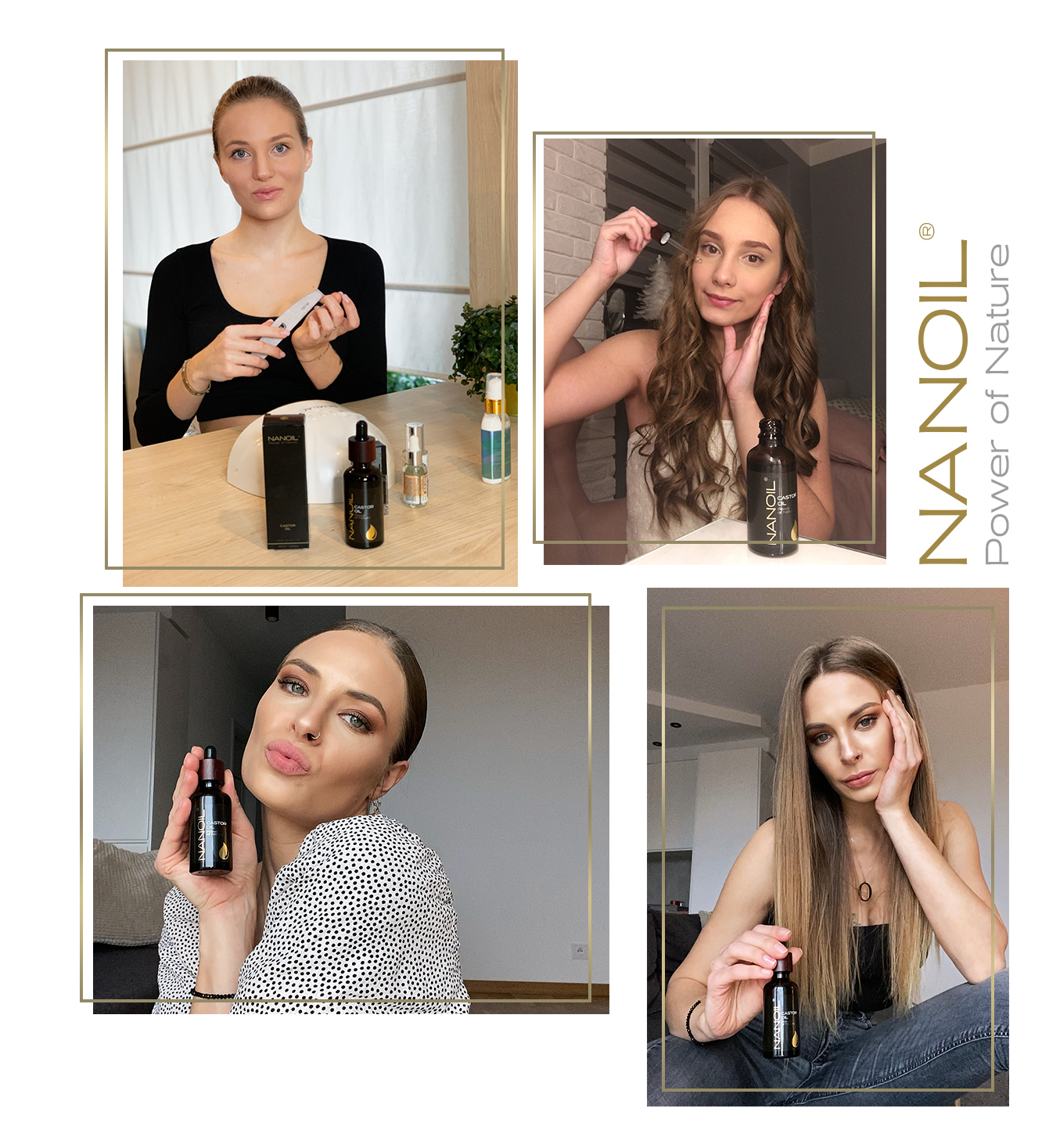 Active ingredients in Nanoil Castor Oil
unsaturated fatty acids (ricinoleic, oleic, linoleic): responsible for regulating sebum production, reducing excessive sebum secretion and oiliness of the skin, preventing water loss, reducing itching and tightness, and rebuilding the damaged hydrolipid skin barrier,
vitamins A and E: their combination is the key to youthful skin. These vitamins can penetrate the deep layers of the skin to stimulate collagen production. Thanks to these properties, they perfectly moisturise, reduce the signs of fatigue and ageing, brighten the skin and improve blood supply,
omega 6 and 9 acids: strengthen the outer skin layer and support the defensive properties of the skin, reduce the risk of dermatological diseases, such as psoriasis or keratosis,
amino acids: crucial in regulating the skin's hydro balance, preventing premature ageing of skin cells and promoting the production of collagen and elastin.
Nanoil Castor Oil provides complete support for skin, hair and nails of all ages. It can replace even 10 different beauty products:
hair mask/conditioner,
face serum,
brow and lash serum,
serum for ends,
makeup removing oil,
massage oil,
eczema treatment,
nail conditioner,
oil for stretch marks, scars and cellulite,
rub- on scalp conditioner.
Where to buy Nanoil Castor Oil?
Go to nanoil.us, click "add to cart" and choose the form of delivery to receive your bottle of natural oil as soon as possible