Best-Sellers! 5 Top Keratin Masks That Will Revive Your Ruined Hair!
Would you like your hair to be luminous, optimally moisturized and silky smooth? A salon treatment is an option but getting a good keratin mask is a better alternative. Why? Because it gives long-term, not only temporary, effects! Plus, it is definitely more budget-friendly. You can read about the top 5 keratin masks on the market in today's post. Get a hairdo you've been dreaming of!
Why keratin?
Keratin is a protein which builds our hair. That is why this major building block is essential to fix both external and innermost layers of hair. Dryness, damage, breakage, split ends – only keratin is able to remedy your hairdo! Its effect can be compared to tooth fillings because it fills in porous gaps in the hair. Keratin penetrates the hair shaft, leaving your tresses:
optimally hydrated
glossy
nourished
smooth
repaired from within
resistant to damage (against harmfulness of sun rays and mechanical injuries)
Why mask, not a conditioner?
Obviously, there are plenty of keratin hair products on the market. A mask is a better choice because it is left in hair the longest, and in turn, more nutrients can penetrate the hair, much more than from a shampoo or conditioner. Besides that, masks have a higher concentration of nourishing ingredients so the effects last long after using them (contrary to conditioners). That is why masks are the best choice when it comes to keratin-based products. You should let it sit for 15 minutes. If you haven't got the time, you can treat it as a conditioner from time to time, and leave it in for 3 minutes or so.
Which keratin hair mask should you choose?
More and more hair-care brands are putting keratin masks on the market but we should only go for professional products and avoid buying a pig in a poke. We have picked 5 best masks that both experts and users rave about! While choosing them, we paid attention to the effects, components, price, quality, and packaging size.
Here Are 5 Top Keratin Hair Masks
1. NANOIL KERATIN HAIR MASK
Size: 300 ml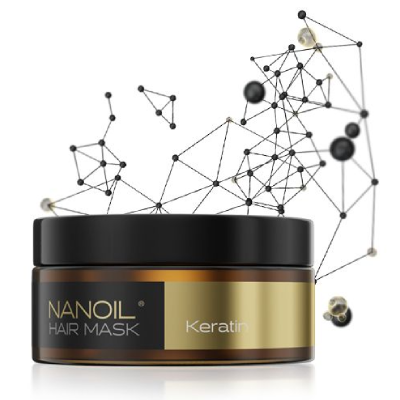 Girls all over the world fell in love with Nanoil. After testing this mask, we understand why it is labeled best of the best. The ingredients infused into a product are the priority for us while reviewing. In this case we get a mask that is rich in hydrolyzed keratin – the best for use on hair. Keratin is blended with panthenol which ramps up moisture in hair, intensifies the shine, and has a strengthening effect. The cool thing is vegan formula because Nanoil holds synthetic keratin. Plus, the price is very fair for the top quality we receive. Nanoil Keratin Hair Mask repairs damaged hair effectively but also protects hair which is in good condition. We were shocked to see the hair looked better after just first usage!
What benefits does regular application of Nanoil Mask bring?
way smoother hair
hair is easier to tame (frizzy, curly hair ) and comb out
hair is damage-proof
amazing gloss
hair keeps moisturized and nourished
2. WELLA SP LUXE OIL KERATIN PROTECT MASK
Sizes: 150 ml/400 ml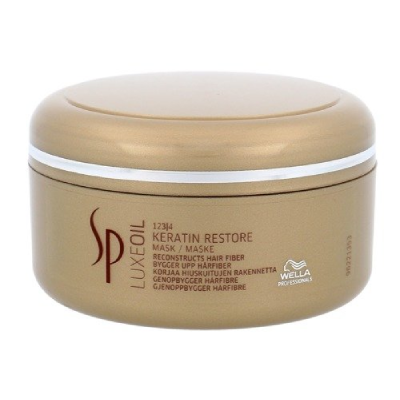 The mask by Wella caught our attention because the directions for use say you can rinse it after 5 minutes! We checked that and it really works, but the effect wasn't as spectacular as with the other products we tried. We know one thing for sure: it is a very good alternative for conditioners thanks to some cool ingredients. Keratin is combined with three oils: argan, jojoba and almond. This guarantees a deep nourishing effect! One packaging lasts for a long time. Extra point for two sizes available.
What benefits does regular application of Wella Mask bring?
strengthening effect
soft hair
protection (of hair color too)
hair color is enhanced
3. PHYTO PHYTOKERATINE EXTREME
Size: 100 ml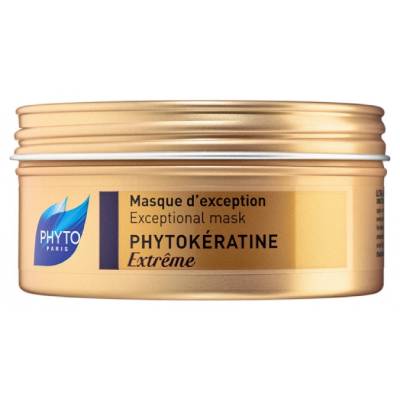 This is another popular pick. The components are noteworthy for sure. Apart from keratin, the mask contains baobab oil and sapodilla butter – the blend repairs, nourishes, and softens. The users also underline that the mask smells lovely and the hair smells the same even after rinsing. The mask from Phyto is vegan as it contains plant-derived keratin. According to the product description, it protects against heat styling. A comfortable pump bottle is another benefit. We wish it was easier on the pocket for this small size.
What benefits does regular application of Phyto Mask bring?
nourishing effect
easier combing
frizz control
protection from heat styling damage
4. NU SKIN RENU HAIR MASK
Size: 100 ml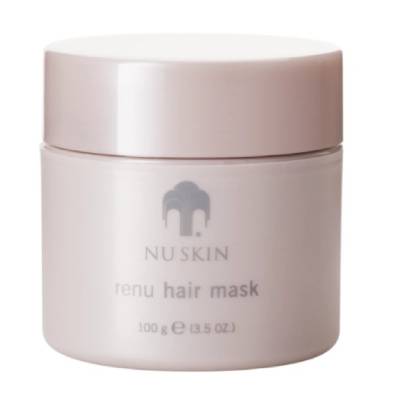 This is another brilliant keratin mask but you may feel disappointed if you want fast effects. Still, regular application makes hair look fantastic. The effect lasts until next washing because the mask is enriched with CS7 – an innovative agent which adds long-lasting shine. The manufacturer suggests doing a spa for hair from time to time by applying the mask, covering the hair with a shower cap and grabbing a blow-dryer to intensify the effect. This way you deeply nourish the hair at home. The price and small-sized packaging are the things that girls complain about.
What benefits does regular application of ReNu Mask bring?
extremely smooth, shiny hair for even a couple of days
the tips are secured against damage
hair is easy to manage
less brittle hair
5. GOLDWELL KERASILK CONTROL INTENSIVE SMOOTHING MASK
Sizes: 200 ml/500 ml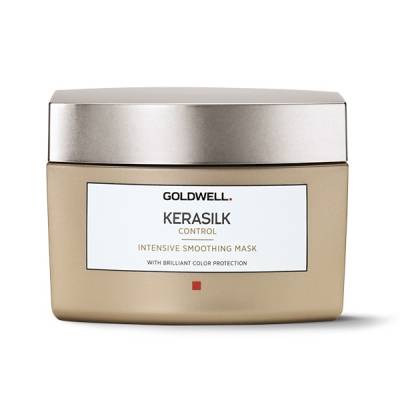 If your hair is totally ruined, this mask may be useful. It is dedicated to unruly, damaged, unmanageable strands. It works best on this type but may be used on other types as well. You only need to be careful if your hair tends to get greasy because Goldwell mask may weigh it down. The product combines keratin with silk which translates to maximum smoothness. You can choose between two sizes; the bigger one has a pump so you can easily use the mask. Too bad it isn't budget-friendly. On the other hand, wouldn't we pay a fortune for lovely hair?
What benefits does regular application of Goldwell Mask bring?
extreme smoothness
shine boost
stronger hair
protection against damage, sun, etc.